We must make wise choices about those we devote time and ministry too. This post compliments the previous one about being Christlike.

It reminds us of the guidance of the Proverb that says, "Anyone who rebukes a mocker will get an insult in return. Anyone who corrects the wicked will get hurt. So don't bother correcting mockers; they will only hate you. But correct the wise, and they will love you. Instruct the wise, and they will be even wiser" (Proverbs 9:7-8)
Wisdomforlife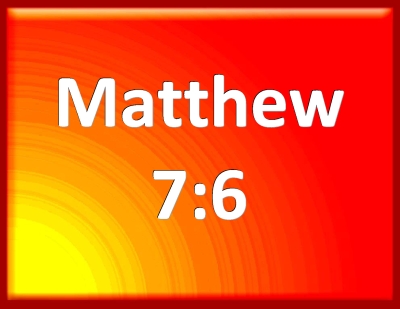 "Do not give dogs what is sacred; do not throw your pearls to pigs. If you do, they may trample them under their feet, and then turn and tear you to pieces" (Matthew 7:6).
These are strong and difficult words for contemporary ears. 
The thought of purposefully refusing to reach out to someone is hard for Christians to understand. But Christians are in great danger when they refuse to be discerning; when they are unwilling to make proper judgments.


"It is easy to see how new danger arises. The disciple of Jesus has been told to love his neighbor as himself, and to love his enemies. He is to mirror God's graciousness, the God who even-handedly sends his rain upon both the just and the unjust. He has been told never to adopt a judgmental mentality. As a result, he is in chronic danger of becoming wishy-washy, of refusing legitimate…
View original post 792 more words